Memorial Day weekend is a great opportunity to get outside and enjoy the start of summer with friends and family. Within Colorado, there are a wide variety of outdoor activities that are accessible for wheelchair users. Below are a few of the many activities we recommend for a fun Memorial Day weekend. 
Opening this weekend, Elitch Gardens Theme and Family Water Park  offers fun theme park and water park rides and activities for people of all ages. Other activities at these two parks include family shows, free summer concerts, drive-in movies, and fireworks. Although not all rides are wheelchair accessible, a detailed Park Accessibility Guide is available on their website. Water Park is FREE with Theme Park admission from Memorial Day weekend through Labor Day. Parking on site is $20. Theme Park Hours
Water Park is open from Memorial Day Weekend through Labor Day from 10:30am until 6pm!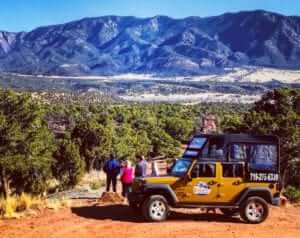 Colorado Jeep Tours in Canon City offers off-road Jeep tours throughout the gold mining regions of Victor and Cripple Creek, the Royal Gorge, and Red Canyon. These informative and scenic tours include information about geology, paleontology, and Western history. Check out the most beautiful trails in south-central Colorado year-round. If you can get into a Jeep, with or without assistance, you can have a blast! Guests provide their own child car seats (which attach to the Jeeps), as required by law. Additional tour packages include Jeep & Raft, Jeep & Train, Jeep & Wine, and Jeep & Zip Line packages.
Platte River Trail Loop is a 4.2 mile lightly-trafficked loop trail through downtown Denver which features the Platte river and is good for all skill levels. The path is fully paved with mostly moderate inclines and declines. Benches are located along the trail. Standard, family, and wheelchair accessible restrooms (including changing tables) are available within select nearby businesses. 
Within Denver's Capitol Hill Neighborhood you can learn about Denver's colorful, long, and mysterious history. Capitol Hill is known as the most haunted neighborhood in the city of Denver and has been voted one of the most beautiful neighborhoods in the United States. Standard and accessible restrooms, family restrooms, and changing tables are available inside select stores.
The original Denver Country Club is the oldest running course west of the Mississippi, and Overland Park Golf Course is steeped in Denver history. Conveniently located minutes from downtown, you can enjoy views of both the city and the mountains. Narrow fairways and small greens that are well-bunkered offer a challenge to golfers of any skill level. SoloRider Golf carts are available; call to reserve.
Have a great time with these and other activities around Colorado this Memorial Day weekend. Find more things to do (no matter your disability) in and around Colorado at Exploryst.com.