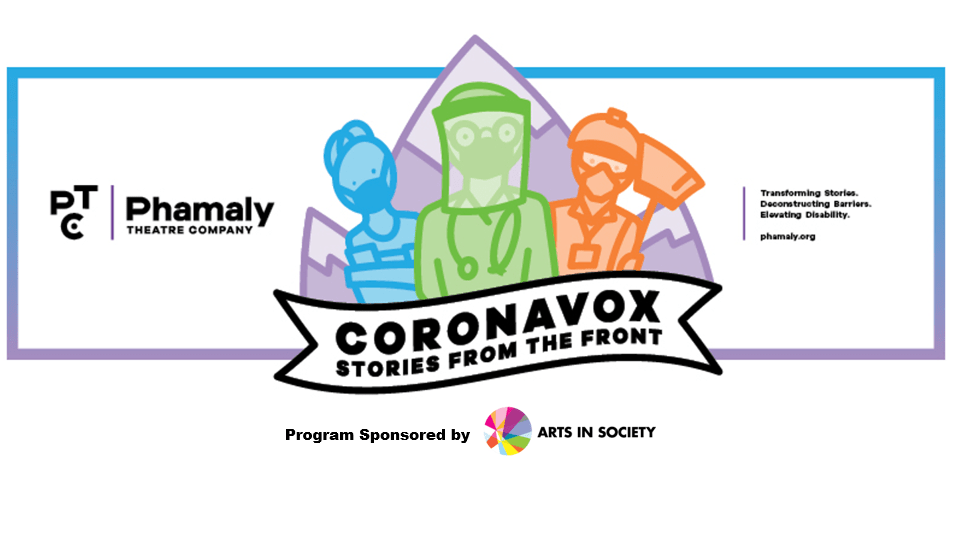 In the style of Phamaly's past "Vox Phamalia" programs, CoronaVox: Stories from the Front will be a compilation of theatrical pieces created by Phamaly writers and actors, and based on fellow community members and their unique experiences during COVID-19, particularly "essential workers" who have been the unsung heroes of the pandemic: a health care worker, teacher, food preparer, caregiver, and more. In classic Phamaly fashion, the stories will come to life with vitality, respect, humor, and heart, demonstrating that even during the darkest of times, we can find light in human connection and storytelling.

Check ticket site for more information.
Background
Phamaly (pronounced family) is one of the few professional theatre companies worldwide to feature performers with disabilities across the spectrum.
Phamaly Theatre Company's (PTC) dedication is to exclusively feature actors with disabilities. At every performance, you will see actors with all nature of disabilities: physical, cognitive, intellectual, and emotional. PTC gives actors a supportive space to explore and develop their craft, empowers artists within their disability identity, educates the community about access and inclusion, and entertains audiences with high-quality, award winning theatre.
Phamaly acknowledges the presence and pervasive history of racism, ableism, sexism, ethnocentrism, gender bias, ageism, and economic inequity that filters through the arts and greater society. We strive to actively dismantle these and other forms of inequity and inequality in every aspect of our work. We believe the inclusion of all community members makes our art stronger.
Theatrical performance occur online and and will occur throughout the Denver metro area moving forward.
Open auditions, classes and workshops are available for all ages.
Please check the website for the most up to date information about performances, classes and workshops.