With Covid-19 looming over the past couple of years, sending children outside to play was a worry. Many of the local attractions were closed, and there weren't many people milling around outside. However, as Covid-19 becomes something we are learning to live with, most of these places are starting to open up again. 
In Denver, many of the local playgrounds have reopened. And the best part – these playgrounds have been upgraded. The local parks and recreation delegations have ensured that these changes were being made during the times when the playgrounds were closed. As of this year, you will find brand-new playgrounds open to the public for the children and families to enjoy! Below are some of the best playgrounds in Denver.
Paco Sanchez Park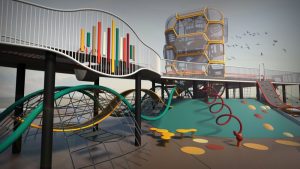 Address – 1290 Knox Court, Denver
This play area, which was built in 2018, is named after former state representative and radio station owner Paco Sanchez. The park's sure to keep your kids occupied for hours. It houses a 30-foot-high-covered climbing tower, rubber hills, a see-saw swing, and a relatively fast concrete hill slide, among others. Your children will also enjoy a large number of climbing ribbons, nets, and spirals. Other fun-generating alternatives include 8 swings, 9 spring toys, and a ton of spinners.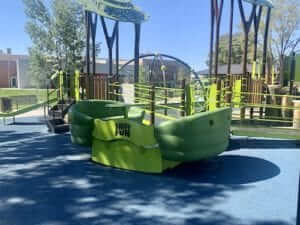 Address – 6049 Forest Dr, Commerce City
This newly remodeled playground has three distinct play areas: one for older children and toddlers and a play area with logs and pebbles to provide a 'nature' experience. This playground is wheelchair accessible, making it a great place to take your whole family. It features a no-step merry-go-round, ramps for wheelchair use, a roller slide, a rocking boat, and three swings.
Address – 2650 E. 49th Ave., Denver
Local elementary children who took part in a leadership program called "Imagine the Possibilities" designed this concealed community playground. Due to this influence, you will find many play options that kids will find exciting. These include a zip line, a double swing, a playhouse, a log maze, and a rope net. This is a great location for a family day-out, as there are plenty of picnic areas around the park. 
Features
Baseball/Softball Field
Bike/Pedestrian Path
Fitness Equipment
Football Field
Futsol Court
Horseshoe Pits
Outdoor Pool
Picnic Tables
Playground
Recreation Center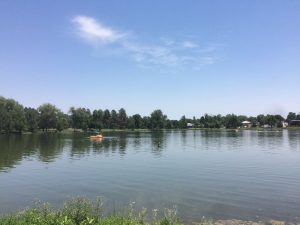 Address – 701 S. Franklin St., Denver
What sets this playground apart from the others is the focus on nature, greenery, and the use of wood. It has a very natural feel with a lot of tree growth providing more than enough shade to escape the sun. Your kids will love exploring the different mazes and treehouses littered across this huge park. 
Gates Crescent Park
Address – 2121 Children's Museum Drive, Denver
Gates Crescent Park is a picturesque urban park in Denver, located on the banks of the South Platte River. It is close to a railroad track, making it a great place to watch the different types of trains go by. It also features a large boat that will keep your kids intrigued for a long time. The playground additionally has a balancing bridge, slides, tire swings, the 'Denver Trolley', and some uniquely shaped rocks for the kids to climb on.