If you haven't visited the Children's Museum of Denver at Marsico Campus, there is a low sensory event tonight that might be something that works for your family.
These free private play access events are designed to create a welcoming environment for families of young children with diverse cognitive and physical abilities.
We adjust lighting, turn down the ambient noise in the Museum, and cap attendance at less than 20% of capacity to ensure a peaceful, lower-stimulation environment.
We often offer sensory-friendly programming with educational and advocacy resources available for families.
Upcoming Low-sensory Evenings

Tonight: 4/20/22
July 20, 2022
October 19, 2022
January 18, 2023
April 12, 2023
Does the museum have any diversity programs or accessibility details beyond what's listed on the Exploryst website?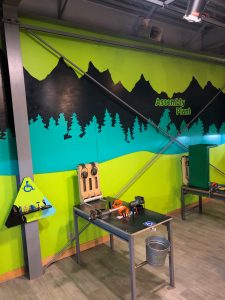 Family Access Nights
Collaborating with community-based organizations for children with disabilities or other access barriers, we open the Museum's doors for free to welcome the families they serve on Family Access Nights.
Examples of these groups are:
We occasionally offer sensory-friendly workshops for guests. These workshops are free and shared directly with families who have signed up for emails about our low-sensory offerings.
Financial access:

Guests who receive SNAP pay only $1 per person for general admission, up to 10 people.
Our Sponsored Admission Program has several opportunities for Title 1 schools, including free field trips, outreach programs, and virtual experiences.

How important is diversity to the museum, and what value does it bring?
The Children's Museum of Denver at Marsico Campus strives to be a welcoming place that is reflective of the communities that surround us, and we believe all children should be able to experience the wonder and joy of the Museum. As an institution dedicated to early childhood education, we acknowledge and encourage the sharing of diverse voices and perspectives as a way to learn andgrow. With that in mind, we have developed access events, cultivated partnerships, and modified exhibit spaces to help ensure we are a Museum for all.
How is the museum's leadership team committed to diversity?
In September 2021, we began a journey to drive transformational culture change to create a welcoming and competent workplace for all employees and guests. We worked with a local firm to evaluate our current processes & policies around diversity, equity, accessibility, and inclusion (DEAI) through surveys and staff interviews. We are completing our DEAI Guidebook and creating a cross-functional team of staff whose focus will be on developing goals related to DEAI work and implementing them across the Museum.

What continued efforts is the museum investing in to ensure everyone feels included?
Exhibit functionality; building out accessible features in exhibits, including ease of mobility and navigation through the space and interactive elements for various physical abilities.
Items and tools to support the experience for a guest/household. This includes noise-canceling headphones, limited mobility gripping aids, wheelchairs, etc.
Guest Service; commitment to establishing a welcoming environment through our actions and our messaging.
Programming; bilingual programs, sensory-friendly workshops, and program accommodations, including ASL interpretation.
What disability training is standard with your staff at all contact points with patrons?
We provide training to all employees of the Museum on our approach to inclusion:
We emphasize respect, recognition of diversity, and person-first language.
Training with our Education and Manager-on-Duty staff to equip them with best practices in family support.
Thank you, Kimber and Kayce, at the Children's Museum of Denver at Marsico Campus for taking the time to be interviewed and share your commitment to inclusion.